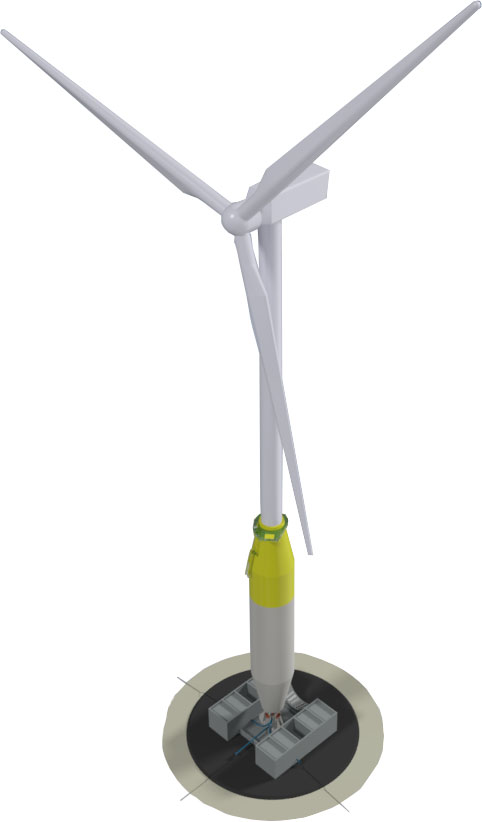 AWC Technology Ltd has been awarded funding for its AWC Demonstration Projectby the Department for Business, Energy & Industrial Strategy (BEIS) as part of the Floating Offshore Wind (FOW) Programme, a £60m private and public investment pool granted to offshore wind projects in the UK to boost the industry.
The AWC Demonstration Project is one of 11 projects to receive funding from this scheme. The project focuses on the continued development of the innovative Articulated Wind Column (AWC) technology centring on an articulated joint which connects to a compliant vertical column with a base located on the seabed.
The AWC technology was recognised by BEIS for its advantages over traditional floating fixed foundations. With features such as a smaller footprint and lowered site survey requirements, there is a significant cost reduction associated with the AWC. Similarly, the technology's suitability to water depths between 80m and 250m allows developers to enter areas of deep water with high winds where other traditional alternatives may struggle.
With a grant of over £750,000 from the FOW Programme, AWC Technology Ltd seeks to continue the AWC's ongoing development and progress the AWC towards its first offshore deployment.
Phil Smyth-Tyrrell, Design Package Manager at AWC Technology Ltd, said, "The AWC Demonstration Project is an important step forward for the energy industry. With the UK Government aiming to produce 1GW of energy through floating wind by 2030 as part of its Ten Point Plan, the AWC allows accessibility to a wealth of locations for offshore wind farms and will provide a lower Levelised Cost of Energy than traditional fixed floating wind farms, powering growth in the industry."